Miroslav Janek
Biography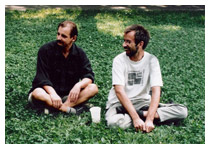 Began as an amateur filmmaker.

In 1980 he emigrated to the USA where he worked with a number documentarists (e.g. Godfrey Reggio).

He started working back in his native country from the mid-1990s onwards.

His greatest success to date is his film about blind children taking photographs The Unseen (Nespatřené, 1997).

Od roku 1998 je stálým pedagogem FAMU na Katedře dokumentární tvorby.
Miroslav Janek at Wikipedia
Other experience

1998 - 2004: Pedagogue at FAMU (Film Academy in Prague), department of documentary film
1982 - 1986: Teacher of filmmaking at FILM IN THE CITIES, St. Paul, MN
1980 - 1986: Editor and Cinematographer on numerous TV spots, industrials and promotional films in Minneapolis, MN
1976 - 1979: Editor for the CZECHOSLOVAKIAN TV, Prague
1969 - 1979: Author of nearly 40 short amateur films in Czechoslovakia

Last year Janek enjoyed huge success with the film Vierka.